Since the Cash-on-Delivery option is not available for these sales we would be using Gift Cards as a mode of payment.

The

first sale of Xiaomi Redmi Note 5, Redmi Note 5 Pro

was held on February 22 and the company claimed that they sold over 3 lakh units in less than 3 minutes. But consumers have been regularly complaining about the no availability of the devices on Flipkart, Mi Home store and Mi.com at the time of flash sale. So here we are sharing a method one can use to jump the queue in the flash sale, incidentally which is going to happen today. Here we would like to point out that TMI is not a big fan of flash sales as it seems to be a strategy adopted to benefit a select few and in true since it is not a sales strategy rather it is a lottery system.
Before we jump to the hack or jugaad, let's peek into the specs of both the devices. Redmi Note 5 features a 5.99-inch Full HD+ display with a screen resolution of 2160 x 1080 pixels, a colour contrast ratio of 1000:1 and 450-nits brightness. It is powered by Qualcomm Snapdragon 625 processor along with Adreno 506 GPU. The 3GB variant of the device has 32GB of internal storage, while 4GB model has and 64GB of storage option. Note 5 has a 12-megapixel primary lens with 1.25-micron pixel and f/2.2 aperture, while for the front, there is a 5-megapixel camera with LED flash and Beautify 3.0. A 4000mah battery powers the Redmi Note 5, and it runs on MIUI 9 based on Android 7.1.2 Nougat. On the connectivity front, the phone features 4G VoLTE, Bluetooth, WiFi, GPS, dual-SIM, and micro USB port.
1. Trick to Buy Redmi Note 5 Flash Sale & Redmi Note 5 Pro Script
Install Flipshope Chrome Extension, this is must without Flipshope extension you can't buy Redmi Note 5 Flash sale mobile

Once you install the extension then you can notice an icon in the search bar, simply click on that.
Go to flash sale option there you will find Redmi note 5 listings, this extension also works on all the other flash sale mobiles

Here you will find the listings Redmi note 5 & Note 5 Pro Flash sale units.
Check the box of Redmi note 5 & Note 5 Pro variant whichever you wanna buy (Only

Gold

and

Black

Units are available in first sale & No 6GB RAM Mobile)
Now you can visit Redmi note 5 sale page on Flipkart and there you will notice a pop-up

All you need to do is visit sale page few minutes before sale time then the pop-up color will change to green.
Which means our extension is started working to give you the mobile.
Exactly on sale time, it will automatically add the product to cart.
2. How to Buy Redmi Note 5 & Redmi Note 5 Pro on Mi Site
The above-mentioned steps are recommended to buy Redmi note 5 but they only work on Flipkart site. What if you want to buy Redmi note 5 from Mi site, well then don't worry because we got this covered too on the same Flipshope extension. This process is a little tricky but with Flipshope extension you can buy it automatically. Do remember that you can only choose 1 variant on Mi site but on Flipkart site you can choose multiple variants.
Steps to Buy Redmi note 5 & Redmi Note 5 Pro on Mi Site
On Flipshope extension choose an option to buy Redmi note 5 from Mi site
You must be in the Redmi note 5 sale page on Mi site
At the time of sale, Flipshope will click on Buy Now button
In the next page, it even click the variant which you have chosen
Hola!! within few seconds the products will be in your cart
Everything is automatic here, you just need to choose a single variant on Flipshope Extension. Then make sure you are in the actual Redmi note 5 sale page on Mi site. That's it once you got the product in cart complete the payment to buy Redmi note 5 & Redmi Note 5 Pro.
3.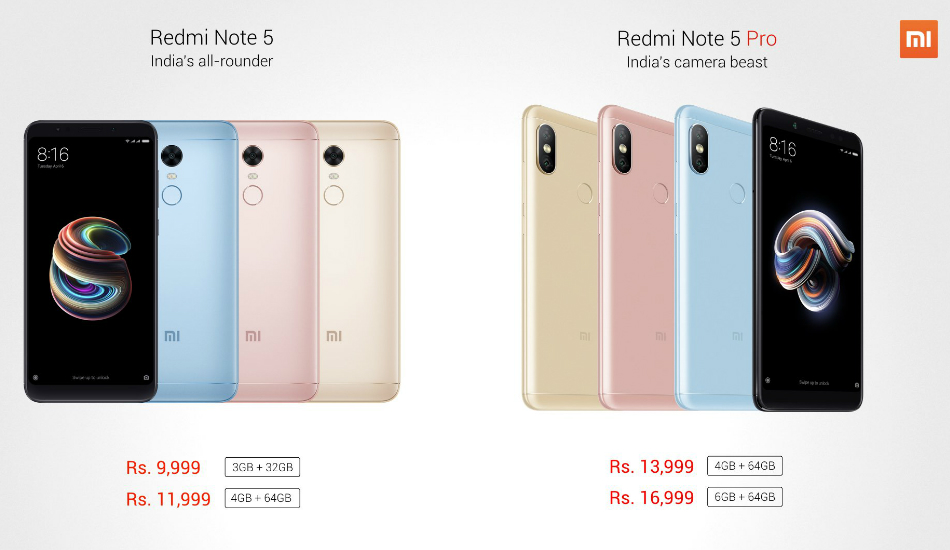 Step 1:
Sign in to Flipkart and navigate to 'My Profile'. There make sure you have entered your email-ID. The next step is to select the address you want your phone to be delivered to the default address.
Note- Since the Cash-on-Delivery option is not available for these sales we would be using Gift Cards as a mode of payment. Cash on Delivery has been removed to reduce reselling of the smartphone in the local markets. Users can also opt for other payment methods like Internet banking or credit/ debit card. In this article we used the Gift card method, which we tried and tested several times during the flash sales. So, without further ado, let's begin.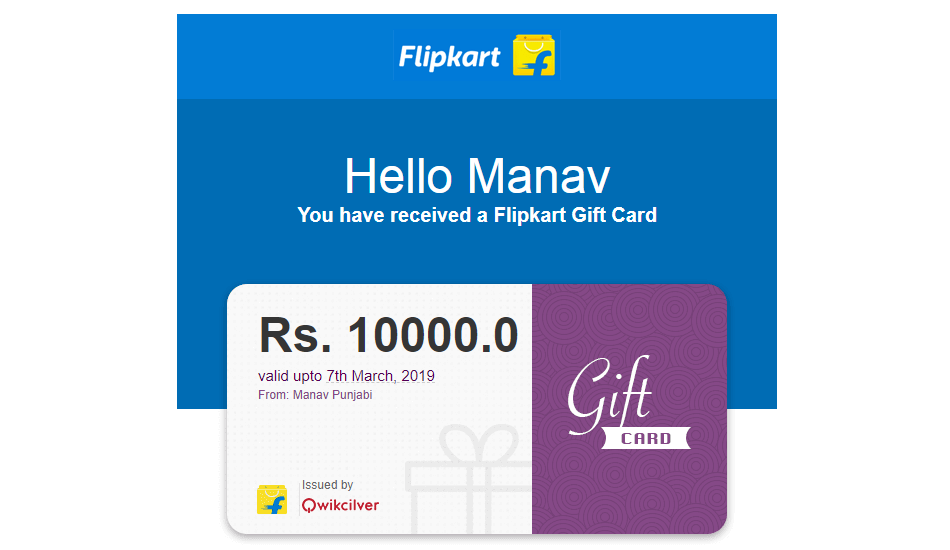 Step 2:
Next, go to My Profile> Payments> Gift Cards.
In the buy a Flipkart Gift Card section. Enter your Email-ID (the one which is registered with Flipkart) in the Receiver's Email ID. Enter your Name in the Receiver's Name. If the phone you are buying is above ₹ 10,000 you will need to buy multiple Gift Cards. In this example, we will be buying a Redmi Note 5 Pro (4GB/64 GB) version worth ₹ 13,999. Since you can only buy a Gift Card of ₹10,000 maximum. You will need to buy another 2 Gift cards worth ₹2,000 each.
These Gift cards are sent on the Email-ID entered by you. The next step is to complete the payment process by using any of the payment methods available to you. After the payment is successful you will receive an Email containing the Gift Card number.
Go to your Email and add the Gift Cards to your Flipkart Account by following the link sent to you. Now you have to confirm if you want to add the Gift Card to this Flipkart account.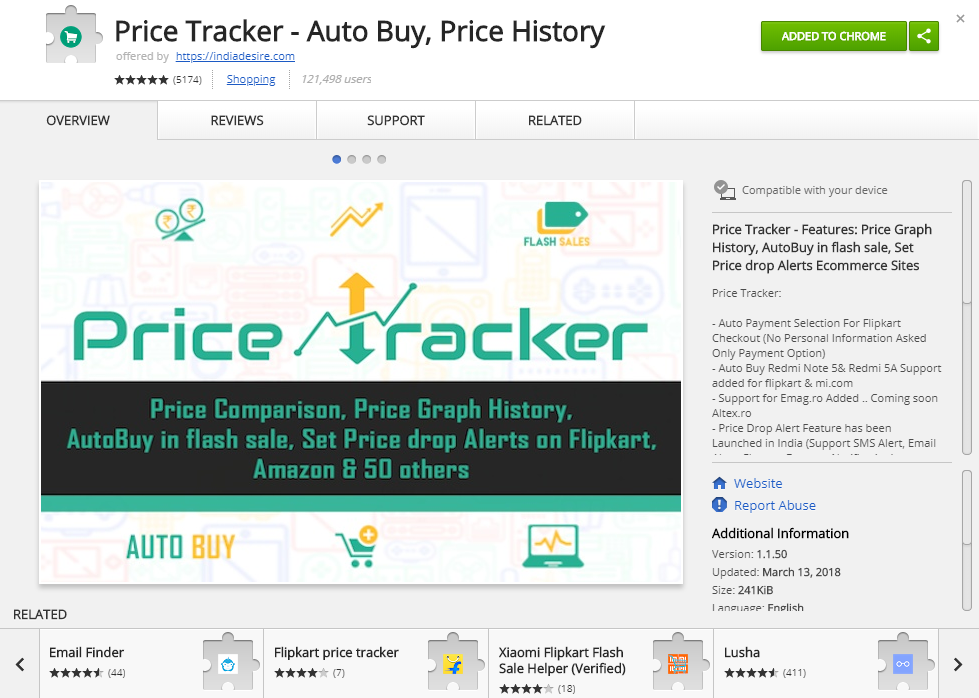 Step 3
Price Tracker - Auto Buy, Price History. This extension would help you to add your desired phone in your cart easily.
Step 4
On the day of the sale open Flipkart. Make sure your cart is empty. On the top right of your browser, you will see the icon of the extension we installed. Select Auto-Checkout and Gift Card as the mode of payment.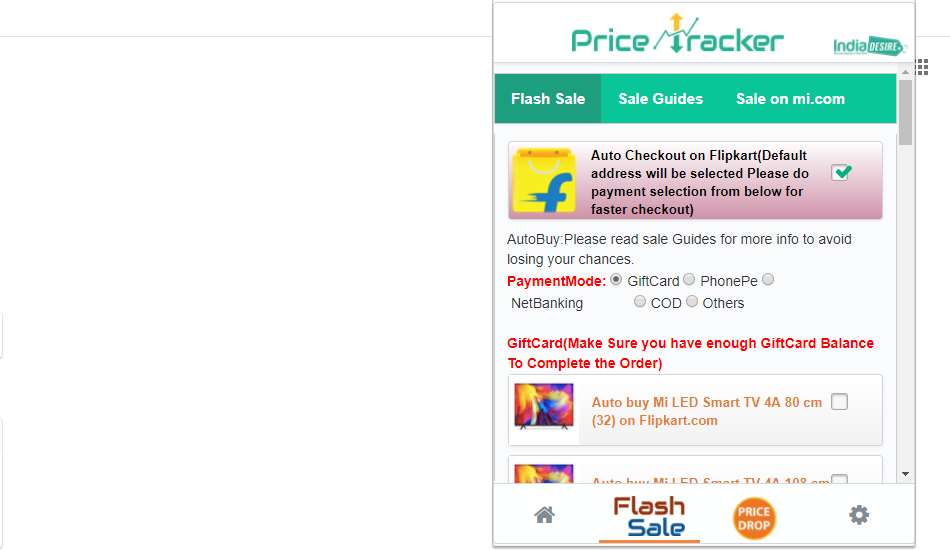 The next step is to select the phone you want to buy from the list below. At noon the extension will automatically reload the page and try to add the phone to your cart.
Once successful you will just have to select the Place Order button on the final checkout page to order your phone.